How to Design your Logo for Promotional Products
How to Design your Logo for Promotional Products
By Tom Gudekunst; Co-authored by Alyson Hills-Martin
Many times over the past 15 years I've had clients come to me with new, really great artwork. The art file has likely been designed by a graphic artist and is very well thought out for the brand image. It has lots of very pretty colors and a bunch of eye-catching details. It really captures the essence of the company image and is awesome for digital use.
Quantum Alchemy Full-Color Logo
What our clients don't realize when they let their graphic artists create an awesome logo is how it will be printed on tangible promotional products. While the colors are beautiful, the artwork might cost more in the long run, especially when imprinting 3D promotional materials. Many manufacturers charge extra for setups and print charges for imprints with multiple colors.
The logo above, for example, is beautiful and well designed. It has lots of small details and multiple areas with gradients and shading. This is visually appealing and works great for paper packaging and online use, however, it has been somewhat problematic with some of our products like lapel pins and embroidered shirts. We have had to omit details from some of their orders and our client has had to pay additional fees for the extra colors and for manipulation of the logo to get it into the proper format to work on multiple items.
Different types of imprinting are available, but in this article, we'll cover how your logo will be affected with embroidery and screenprinting. In this post, I'm going to cover the do's and don'ts of logo design as it pertains to the world of SWAG.
Finer Details
Think of the most detailed design you've ever seen. Did you see it online? And if you saw it in person, how big was the medium it was printed on? Small and intricate details are visually appealing but they are not always able to be decorated on to the products you're wanting.
Some fine details may not be printable on smaller imprint area items. For example, imagine all seven Harry Potter books on a grain of sand. Probably not going to happen with the amount of detail needed to tell your audience what they would be looking at.
Embroidery
It's important to ensure when your artwork is sized down it will still be legible. Embroidery can be difficult with details less than ¼" in height; therefore ¼" is the minimum recommended for text to be legible.
Embroidery on Employee shirts for Title Guaranty of Guam
PRO TIP: One of the best things you can do is design your artwork to be used in multiple ways as this will aid in using multiple imprint areas on a shirt or jacket. Many times a portion of the logo can be removed without making it any less iconic, or the text from the logo can be used on a stand-alone basis. Using the text on the left chest with the icon on the sleeve is a good look!
Screenprinting
Printing very small details on pens and other items with smaller imprint areas can be pretty tough too. Although, you can get smaller details than you would otherwise get with embroidery. Consider screenprinting when you might have a little more detail.
Remember the Harry Potter reference mentioned before? Even if it were possible, just one book printed on a golf ball would be impossible to see with the naked eye. However, the logo title on its own, "Harry Potter", would be legible and easy to read on something like a golf ball.
Camper Mug screen print detail made for Tokes N Treats
PRO TIP: While designing your logo take these practices into consideration. Be sure to leave some space between the elements of your logo and try to use simple shapes. This will make it easier for you and your 3D print advertising in the long-term!
If the logo is already designed and you're finding there are many small shapes and details, ask your qualified promotional consultant what can be done.
PMS and Standard Imprint Colors
We all know the bright pink of T-Mobile or the yellow arches of McDonald's. These are specific Pantone colors and need to be hit right on, every time. This means T-Mobile and Mcdonald's are paying extra to make sure the colors are just right.
If you'd like to avoid Pantone charges (usually $25-$55 per color) then try choosing a more common shade or color for your logo. This doesn't mean your logo will look plain or unrecognizable, but it does mean your logo will have more options, be more easily matched, and will cost you less to have printed.
PRO Tip: Ask your qualified consultant about what colors are usually deemed as "standard imprint colors". Consider being more lenient in your brand guidelines as it pertains to color so you can choose from a wider variety of color choices, or ask your consultant to look for products from manufacturers who do not charge for Pantone matching.
It's important to share all artwork files with your qualified consultant to help them advise you properly, even if you already have a logo with a bunch of colors.
Cost
Most manufacturers charge between $45 and $65 per color to set up their imprinting screens and equipment, and the screens are usually kept for up to two years. Run charges for additional imprint colors are often between $.25 and $1 per piece and these can add up quickly. Not to mention the additional setup charges for each color. One would ask if it is cost-effective to print five colors on a $0.50 pen?
If you are going to print five colors on a product, it could be worthwhile to ask about a digital full-color print. Charges for multi-colors will add up quickly, but digital full-color printing can help lower the cost. Some manufacturers offer full-color imprinting and some don't, but we recommend always asking for it as it could save you money.
Instead of charges for each individual "spot" color, digital full color would include up to five colors. The catch of digital full-color imprinting is typically one color can be "targeted", and usually cannot match PMS colors with full color. However, this option can sure save the day if you have tons of colors or gradients in your design.
Multiple colors need to be taken into consideration when designing the logo. If your company is not OK with paying additional run charges and set up charges, talk to a promotional product specialist like us to be well informed of all of your options. We can help you get set up for a one-color version of the artwork or come up with an alternative plan.
PRO TIP: Speak with your graphic designer about creating a one-color logo treatment, as it will save you money when it comes to promotional products. Ask for your logo to be designed in such a way that elements are removable from each other.
When there are more than two colors that touch each other, it can be extremely difficult to merge those colors into one. If that's the case with your logo, try to plan for a portion of your logo to be removed from the rest, creating an icon. Simplifying your logo can help to save money when it comes to promotional products.
MARCO Ideas Unlimited logo
MARCO Ideas Unlimited icon is taken from the logo
For more information about cost and promotional products, check out our blog "CPI = Cost Per Impression Relating to Promotional Products".
Call the Experts
Everyone loves to receive promotional products. At some point, your new business will likely hand out swag. So, if you're starting a business or looking to update your brand guidelines, it would be worthwhile to have a promotional product distributor expert on your side.
For more information to get started, contact us at 503-620-0770 or marcoteam@marcopdx.com . Our team would be happy to help answer any questions you might have.
For more information about vector-based artwork, check out our blog "Why Would I Need Good Artwork?".
Tom Gudekunst has helped organizations purchase promotional products since 2005. He achieved his Certified Advertising Specialist designation in 2012. He enjoys spending time with his family, including a dog and cat, four chickens, two children, and his wife.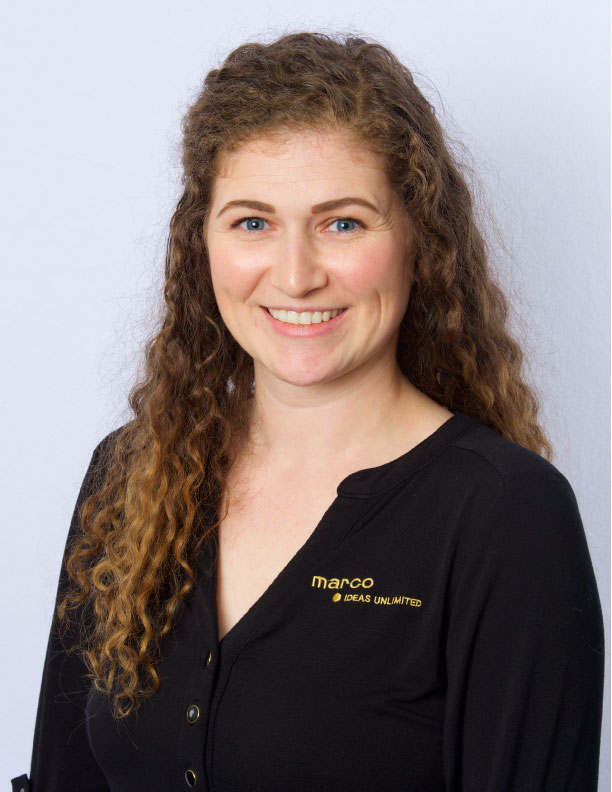 Alyson Hills-Martin is the Marketing Manager for MARCO Ideas Unlimited. She received her Bachelor's degree in Communications from Weber State University and has been with MARCO since 2018. Alyson understands the importance of sustainability around promotional products and spends her free time traveling, hiking, and camping with her husband.
---
Category: Logo Design
Tags: Logo, Design, Full-Color, Digital Imprint, Screenprint, Embroidery