Reduce Tradeshow Waste
By Alyson Hills-Martin
Think about the last trade show you attended, what promotional product did you take home? What branded item do you still use? Asking these questions before deciding on a tradeshow giveaway will make a lasting impression on your target audience and reduce tradeshow waste.
President, Nancy Gudekunst, with husband and General Manager, Peter Gudekunst, at a tradeshow.
Know Your Demographics
First, think about your demographic; have a discussion around who will be attending the show and how they can use your product in the future. Recently, we sponsored lanyards for an event. We designed the lanyard specific for the industry, with our logo discretely at the bottom, near the clip.
It would have been very easy to put our logo, the event logo, and even the date on the lanyard, but our team considered what we would want to take home. Realizing a few people may use a lanyard after an event, we wanted to find an appealing way to get our audience to do so. Now when someone sees it and asks, "Where did you get that cool lanyard?!" our logo will be right there. Making our logo placement visible allows the receiver of the lanyard to easily tell others about us.
Worthy Giveaways
Next, the product needs to be worth taking. New attendees will be so excited by the freebies, they will likely take anything (it happens to all of us!), but recurrent show attendees are going to ask themselves, "Do I really need this?"
Giveaways like recycled cotton bags, laser engraved USB drives or quality clothing with subtle logos will fly off your table! Visitors pass up super-branded, dated or low-quality items. Reasons like limited space in the suitcase, airport security or the fact the attendee already has several of what is being offered, make your impact worthwhile. The quality of the promo item reflects the caliber of your company's product or service.
A better way to keep costs low is to hand out fewer, but higher quality items to your most qualified leads. We have handed out hats with a subtle logo on the front and our logo ironed inside the hat, then we asked receivers to like our social media pages. People really liked the hats and ultimately, our social media likes matched our hat giveaways.
Participants who took a photo wearing the hat and tagged us were entered to win a speaker. This got people talking and our booth had a lot of traffic.
Reduce Tradeshow Waste
Lastly, your booth has options for sustainability. When making artwork for banners, remove dates so there is an opportunity to reuse at subsequent events. Upload data to a USB drive to hand out instead of printed flyers. "Ideas" is our middle name, so ask us how to get creative with your show's theme.
Being conscious of your impact has its benefits. According to Sustainable Brands, "when companies support social or environmental issues, consumer affinity overwhelmingly upsurges:
93 percent of global citizens will have a more positive image of that company

90 percent will be more likely to trust that company

88 percent will be more loyal (i.e., continue buying products or services)"
If you are looking for sponsors or will be sponsoring an event, think about the long-term impact. Ask your attendees to bring their own water bottle, coffee cup, stainless steel pint glass, and reusable utensils, or in the invite, ask for pre-purchase with the receiver in mind. We have hosted after-parties with reusable tumblers instead of plastic cups. If the event serves food, fill the water glasses after everyone has taken their seat.
Spending an extra moment thinking about the bigger picture will help with a lasting impression for you, your company, and your clients. Finding ways to ensure you are getting the most from your audience is how MARCO Ideas Unlimited can help.
If you're looking for other ways to reduce tradeshow waste, check out the article, "Afterlife of Promotional Products".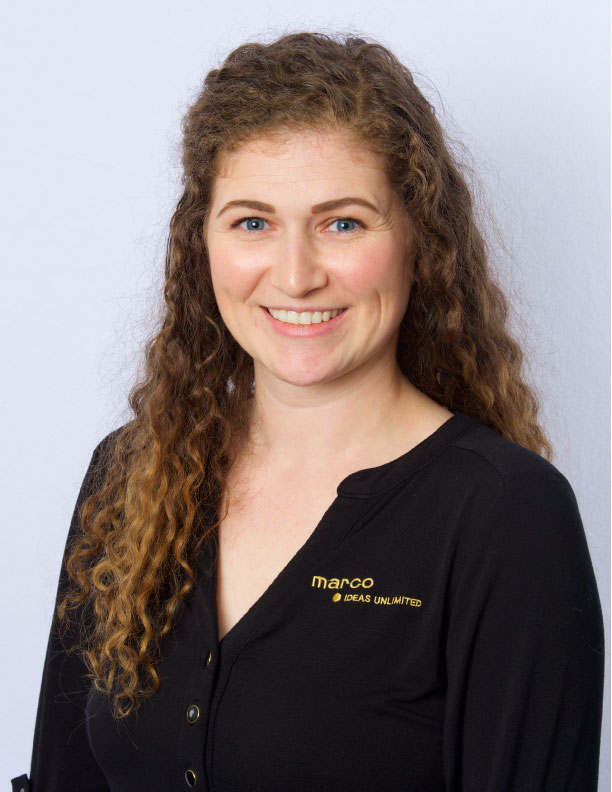 Alyson Hills-Martin is the Marketing Manager for MARCO Ideas Unlimited. She received her Bachelor's degree in Communications from Weber State University and has been with MARCO since 2018. Alyson understands the importance of sustainability around promotional products and spends her free time traveling, hiking, and camping with her husband.
---
Category: Tradeshows
Tags: Giveaway, Reduce, Reuse, Recycle